WE BUILD OUR COVERAGE TO MEET YOUR NEEDS
This industry is based on schedules and timing, regardless of whether your clients travel for business or pleasure. We can help you find the right coverage so you can focus on providing a seamless travel experience to your clients.
Quote Now
PICK THE COVERAGE YOU NEED
WE TARGET THE BUSINESSES THAT WE KNOW BEST
General liability, professional liability, property and data security. See if you are a fit for our competitive pricing.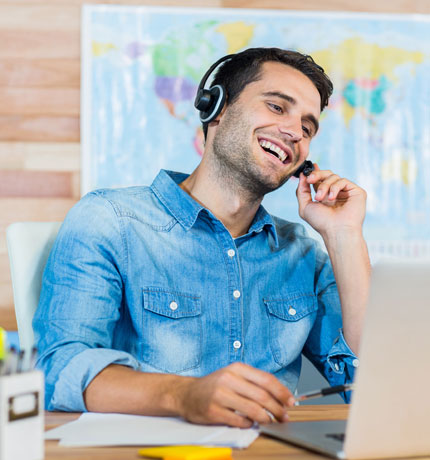 GENERAL LIABILITY
If a client is injured by tripping over your bag while you can be giving travel advice, they can bring a lawsuit against you. General liability can cover the lawsuit and the medical costs.
PROFESSIONAL LIABILITY
If your client is assaulted while traveling and, as a result, breaks their leg, they can sue you for booking accommodations in an unsafe location. Professional liability can cover both the legal fees and potential damages of the claim.
BUSINESS PERSONAL PROPERTY
If the property used for your business is damaged in a fire or stolen, you can be covered for its replacement.
DATA SECURITY
If your computer is hacked and your client's information is stolen, most states require that you notify each client in writing. Cyber liability can cover the costs and guide you through the process.
Coverage is based on the terms, conditions, limitations and exclusions of your policy. Be sure to read your policy to verify your coverage.
BEST PRACTICES RESOURCES
Our best practices are a practical guide to help you avoid unnecessary claims
Always offer travel insurance to your clients - In the case of an international crisis or outbreak of a disease, a client may cancel their trip even if their destination not impacted by the crisis. A suit may be brought by the client who canceled their trip when they realize they are unable to recoup their money. By offering travel insurance, you will help prevent claims such as these. Travel insurance offers limited coverage so be careful not to misrepresent the terms of the coverage.
Double-check your bookings - Lawsuits have been filed against travel agents who have accidentally purchased one-way tickets, leaving travelers stranded in foreign countries. To prevent this, implement procedures or checklists to confirm all necessary bookings have been made prior to a trip.
Always use written disclaimers or waivers - Since a suit can be brought against a travel agent based on the failure of a hotel or vendor, use a disclaimer to provide an extra layer of legal protection. A local attorney can help you craft the appropriate disclaimer or waiver of liability.
Build a strong network of suppliers - When you maintain ongoing supplier connections, it helps to ensure consistent quality for your clients. A personal connection can also protect you if something goes wrong.
Know the required travel documents - It is your duty to inform your client of the necessary passport or visa requirements for the countries they plan to visit. You can be sued for not warning your clients of the need for the correct travel documents prior to their departure.
CoverSmart is the best way to buy business insurance.
CoverSmart is an online quoting platform to purchase insurance from one or more USLI companies.
USLI companies are members of the Berkshire Hathaway family of companies and have an A++ Superior
rating for financial stability from A.M. Best Company.
Quote Now