WE BUILD OUR COVERAGE TO MEET YOUR NEEDS
Filming a wedding or creating a short promo for a local business requires precision and creativity. We are here
to help you find the right coverage and protect your reputation so you can focus on what you know best.
Quote Now
PICK THE COVERAGE YOU NEED
WE TARGET THE BUSINESSES THAT WE KNOW BEST
General liability, professional liability, property and data security. See if you are a fit for our competitive pricing.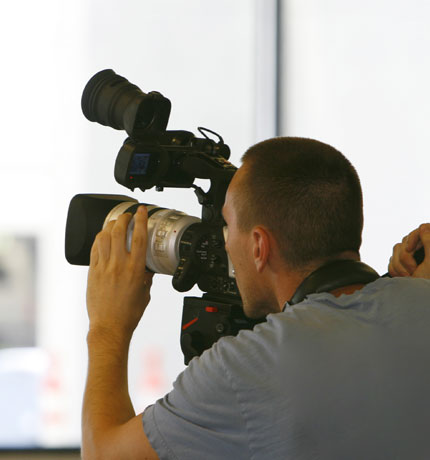 GENERAL LIABILITY
If you damage a valuable piece of art while filming a promotional video for a real estate listing, the property owner can bring a claim against you. General liability can cover the replacement cost.
PROFESSIONAL LIABILITY
If you fail to deliver a marketing video for a local business by the agreed upon deadline, your client can sue you. Professional liability can cover both the legal fees and the potential damages of the claim.
BUSINESS PERSONAL PROPERTY
If your video equipment is lost, property coverage can cover the cost of its replacement.
DATA SECURITY
If your computer is hacked and your clients? information is stolen, most states require that you notify each client in writing. Data security coverage can cover you for the costs and guide you through the process.

Coverage is based on the terms, conditions, limitations and exclusions of your policy. Be sure to read your policy to verify your coverage.
BEST PRACTICES RESOURCES
Our best practices are a practical guide to help you avoid unnecessary claims
Always use written contracts - A written contract that is signed by both parties helps outline the extent of the services you will provide to your client. This will help to protect you in the case that a client sues you for not meeting their expectations. Consult a local attorney to ensure that your contract meets the necessary state requirements.
Back up your photographs and videos - Some of the most common claims against photographers and videographers stem from lost photos or videos that were guaranteed as a part of a contract and were not received due to a failed memory card or stolen camera that was not backed up. Make sure that you have a system in place to prevent this incident from happening.
Protect your equipment - Cameras are stolen often and are expensive to replace. Transport your cameras securely and store them in a safe place when they are not in use.
Listen to your clients - Whether you are working on family portraits or a wedding, your clients often have specific preferences when it comes to the photos they would like you to take. It is important to know what your clients are expecting, even though you have some artistic license.
Maintain strict deadlines - You can set valuable and realistic expectations with your clients by communicating when the photos or videos will be edited and ready. By sticking to the deadlines that you set, you can help prevent a claim from a client who believes you did not deliver the final product in a timely fashion.
Get the appropriate releases from all models - Get the required signed releases from all individuals involved in a shoot when taking photographs or video for commercial use.
CoverSmart is the best way to buy business insurance.
CoverSmart is an online quoting platform to purchase insurance from one or more USLI companies.
USLI companies are members of the Berkshire Hathaway family of companies and have an A++ Superior
rating for financial stability from A.M. Best Company.
Quote Now